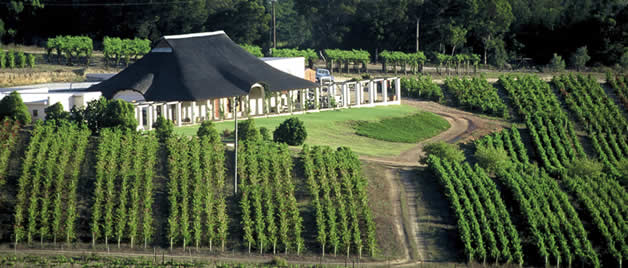 Hemel-en-Aarde
Near the Southernmost point of Africa lies a valley named Hemel-en-Aarde (Heaven and Earth) framed by mountains and within sight of the ocean, with frost free, soft, beneficial weather and the most perfect clay shale vineyard soils...

Established in 1989, Bouchard Finlayson is a boutique winery dedicated to the making of Pinot noir, Chardonnay and Sauvignon Blanc wines of outstanding quality.

Located in the wine ward of Walker Bay, an hour and a half from Cape Town, the 125-hectare property currently has 22 hectares under vines; the rest is mountain land, covered by the spectacular indigenous 'fynbos' flora of the Western Cape. With only a small portion of the farm under vine Bouchard Finlayson is able to ensure the conservancy of the mountain land.

Bouchard Finlayson's flagship wine is the Galpin Peak Pinot Noir, which has won many an award and accolade. Growing on the slopes of Galpin Peak, repeated vintages of this path-blazing wine continue to reflect a true celebration of Pinot-crafting, consistently endorsing the Hemel-en-Aarde Valley as a jewel in the hunt for this illusive grape.
Bouchard Finlayson is renowned as one of South Africa's top wineries and this can be attributed to their philosophy and focus to produce wines of the finest quality.
The surrounding coastal town of Hermanus lures tourists and locals to partake in many exciting adventures. Hermanus is famous for the Whales that venture into their waters, Shark cage diving is another great attraction for the brave and courageous. If you prefer to keep your feet on the land, Hermanus surrounding mountains offers the most fantastic hiking trails with spectacular views.
Bouchard Finlayson invites you to visit the farm as well as discover the local area.