The Sadie Family Winery consists of Eben, his brother, and his sister. Its entire business is capturing the terroir of these jagged hills of the Western Cape in a bottle. Consistency, that staple of brand-building, doesn't interest him, and with wines made a few hundred cases at a time, it doesn't have to.
"The problem with the New World is the obsession with perfection," he says.
"There's no such thing as perfection. It's all imperfection."
The climate of this area of South Africa can be described as extremely consistent, with low amounts of rainfall. There are three main soil types in the zone. The first is decomposed slate which sits over a clay foundation. These soils give wines with great intensity that can stand up to heavy uses of new oak. The second is decomposed granite which is found everywhere in the region and the third is Table Mountain sandstone.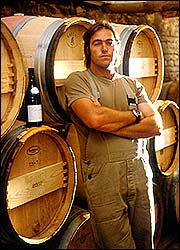 Eben Sadie started as winemaker with Charles Back, heading up the newly formed Spice Route venture. He left in 2000 and has since established a stellar reputation for his Columella and Palladius wines, which are widely regarded as among the best red and white wines, respectively, from the Cape. Eben grew up in South Africa making wine for other people, but felt that the wines always lacked something. He travelled to Europe and realized that what was missing was tradition. 'There is a wheel of terroir', he explains. 'There's history, tradition and time, as well as other elements, and these three aren't always welcome in the world that we are living in today'. So he left South Africa on a working journey of discovery that took him through Germany, Austria, Italy, Oregon and Burgundy. 'I recognized that in Burgundy people have a heart in them: they breathe the wine. It is part of how they move'. On returning to 'South Africa Eben started Columella on a shoestring. He made just 17 barrels in his first vintage, 2000, because he didn't have the money to invest in it. His goal was to do something that had a bit of the greatness he'd seen in some European wines, and he found three vineyards where he thought he could achieve this. Eben has quite a European philosophy on wine. 'I don't like the term 'winemaker' at all', he explains. 'Until recently it didn't exist: now we live in a world where we "make" wines'. Eben continues, 'to be involved with a great wine is to remove yourself from the process. In all the "making" the virtue of terroir is lost'. When Eben started Columella he knew the wine had to be a blend. His view is that in cool continental climates single varieties excel: there's a dialogue with the environment and a long time to interpret the vintage. The coast is best for blends, he maintains, but adds, 'there are always exceptions: you can never generalize in wine'. What's the Sadie secret? He takes incredible care in the vineyards. He doesn't have machines in the cellar: everything is done by gravity and hand. Wooden open fermenters are used. 'It's a very pure way of producing the wine'.